Almond Milk: The 15 Best & Worst Brands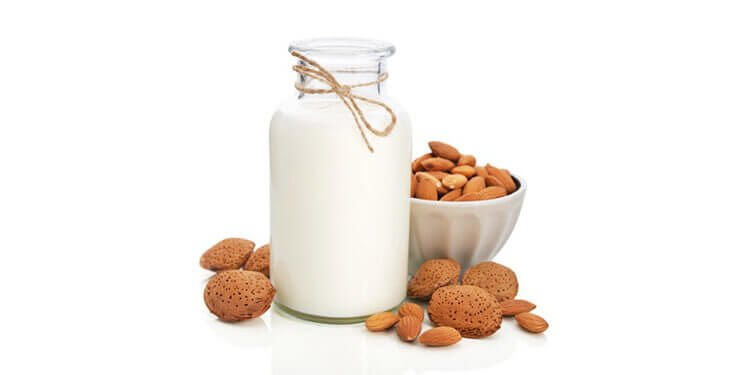 You've been searching the market for only the healthiest almond milk, and you've been inundated by countless brands touting this and that about their particular variety.
Yep. We've been there, too.
Almond milk is an amazing blend of almonds and water that has a unique nutty flavor and has become very popular among folks looking for an alternative to regular ol' cow's milk.
As you may have heard, cow's milk is not as good for you as you may have been lead to believe due to a process called pasteurization.
The pasteurization process breaks down nutrients quickly (read: not good), and the lactose in cow's milk breaks down after digestion and is known to potentially cause inflammatory bowel disease.
Almond milk is a soy, lactose and dairy-free alternative that has carved its own niche in the healthy-eating market in recent years.
Maybe you are curious about this phenomenon, or are looking for the healthiest types of almond milk to better match your newly adopted diet with your exercise/fitness regimen.
In any case, lets get into the nitty-gritty..
Health Benefits of Almond Milk
Almond milk is simply a mixture of almonds and water, and is naturally low in calories and high in essential vitamins and minerals. It is healthier than cow's milk since almond milk contains fewer calories and carbohydrates, and is a guilt-free addition to your pantry.
Almond milk generally contains powerhouse vitamins and minerals, such as vitamin E, B vitamins, calcium, protein and fiber. Drinking this milk alternative is unlikely to cause your blood sugar to spike (a common complaint with cow's milk).
You also have the option to choose brands of almond milk that do not contain a high amount of sugar, so you can follow your diet with ease.
Essentially, unsweetened versions of almond milk are the best for you.
The Best Brands of Almond Milk
What makes some brands stand out more than others on the this-is-healthy-for-you scale are the amount of almonds used in the mixture. As you might guess, the higher the concentration, the more nutritious of a snack it will be for you.
Almonds are loaded with antioxidants that protect cells from free radicals, aging, diseases and cancers.
Ingredients like zinc, iron, manganese, magnesium and vitamin B12 make it a slam-dunk drink for diabetics or those with high blood pressure or cholesterol levels.
Almond milk blends also contain a high amount of vitamin E and omega 3's that are great for digestion and preserving your health. These ingredients can help maintain cellular strength while being effective for weight loss.
Here is OwnTheMeal's guide to the 15 best and worst brands of almond milk and what to look for when searching for the best brand for you.
Inside Out Almond Milk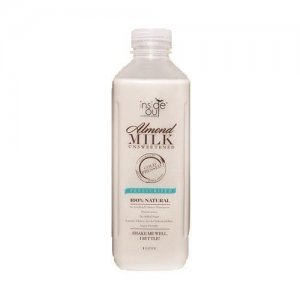 12% – 14% of Australian almond concentration
4 grams of protein
325 kilojoules of energy in each serving
5 grams of fat
When it comes to the cream of the crop, this brand sets the standard because it has such a high concentration of nutrients, is lactose free and contains no cholesterol.
This company produces different flavors of almond milk that will blow your mind and keep you coming back for more.
Luz Activated Almond Milk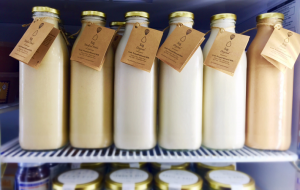 12% almond concentration
2 – 3 grams of protein
550 – 1,000 kilojoules of energy in each serving
8 – 16 grams of fat
The variety of products produced by this company are made with cold-pressed milk to preserve the vitamins, minerals, enzymes, and essential nutrients you want in an almond blend.
Choose in a wide range of flavors to satisfy your taste buds.
Nutty Bruce Organic Activated Almond Milk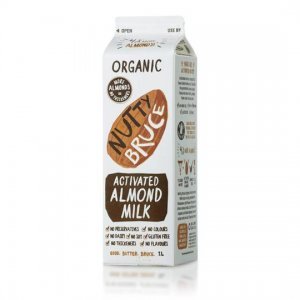 10% almond concentration
2 grams of protein
505 kilojoules of energy in each serving
5 grams of fat
Indulge in Nutty Bruce almond milk made using activated almonds that have been soaked in water for twelve hours to guarantee only the best flavor.
This organic almond milk contains no fillers, thickeners, or flavors.
Pureharvest Activated Almond Milk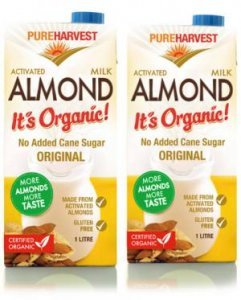 10% almond concentration
7 grams of protein
308 kilojoules per serving
2 grams of fat
If you are looking for a full flavored almond milk, look no further than this brand.
Pureharvest almond milk is made after initiating the germination process that helps to bring out the nutrients of each almond.
Isola Bio (Organic) Almond Milk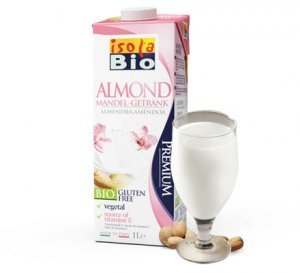 8% almond concentration
1 gram of protein
221 kilojoules per serving
8 grams of fat
Do you have a sweet tooth that you are always trying to satisfy?
This sweet drink is made with organic agave syrup for a sweet taste you will remember.
EcoMil Almond Bio (Organic)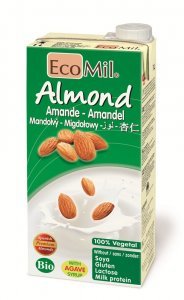 7% almond concentration
6 grams of protein
87 kilojoules per serving
8 grams of fat
Ecomil produces products that are made with Spanish almonds and fresh ingredients from organic farms.
You will feel proud of yourself when you buy this brand because of how healthy and environmentally friendly they are.
Blue Diamond Almond Breeze – Unsweetened Vanilla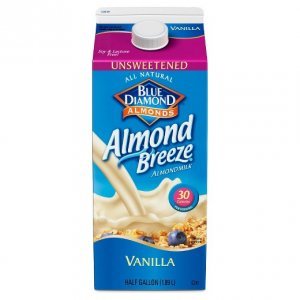 2% almond concentration
1 gram of protein
40 kilojoules of energy
5 grams of fat
Containing just 80 calories per cup, you can indulge in this sweet and smooth tasting almond milk without feeling guilty.
This almond milk is made from almonds and coconut milk and contains absolutely no sugar.
The Effect of Carrageenan in Almond Milk
It is true that not all almond milk is made the same. Some brands are very up-front about the ingredients in their blend while others are not so forth coming.
This is what differentiates the good from the bad. Some products contain organic and clean ingredients while others contain carrageenan, which are polysaccharides that originate in red sea weed and are often used as a thickener.
To put it plainly, this substance is not easily digestible and contains no nutritional value whatsoever. According to a study performed by the University of Illinois School of Medicine, Dr. Joanne Tobacman states that carrageenan may trigger an immune response that is similar to when your body becomes effected by Salmonella.
The combination of artificial sweeteners, thickeners, and artificial flavors depletes the nutritional content in favor of flavor and texture, and may enhance the risk of cancer.
The Worst Brands of Almond Milk
What makes some almond milk brands unhealthy, you ask? Some manufacturers of almond milk substitute the amount of almonds with sugar, flavors, sweeteners, and artificially injected minerals.
In fact, some brands contain artificial vitamins A and D in an attempt to compete with cow's milk. On the other hand, some products contain additives and gums, like gellan gum, that may cause health concerns in those with digestive issues.
These almond milk varieties have earned notable recognition as being the not-so-good for your health due to their sketchy ingredients and hefty amount of sugar per serving.
Whole Foods 365 Organic Almond Milk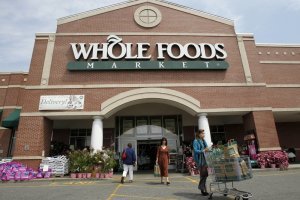 Calories: 90
Fat: 3 grams
Protein: 1 gram
Carbohydrates: 16 grams
Whole Foods is a grocery store chain that produces their own products and acquires their ingredients from organic farms. Sounds good, right?
Their almond milk contains a lower concentration of almonds per serving compared to other brand,s so you may not get the best bang for your buck.
So Delicious Almond Plus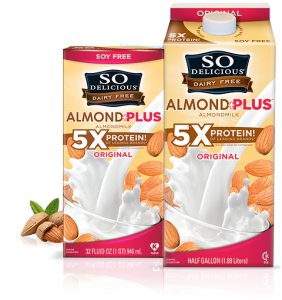 Calories: 25
Fat: 2 grams
Protein: 1 gram
Carbohydrates: 1 gram
This brand has a high concentration of sugar (7 grams per cup) and is made from dried cane syrup.
It also contains extra proteins, such as pea and rice proteins, as well as carrageenan.
Elmhurst Harvest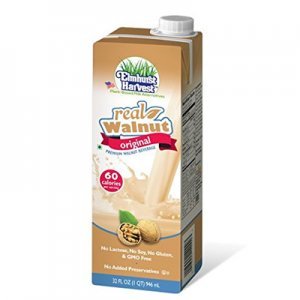 Calories: 60 – 100
Fat: 3 grams
Protein: 1 – 2 grams
Carbohydrates: 8 – 19 grams
This company produces almond milk in different flavors to suit your taste preferences.
However, their products contain between 8 and 19 grams of sugar with a lower concentration of almonds in each blend.
Pacific Organic Unsweetened Almond Milk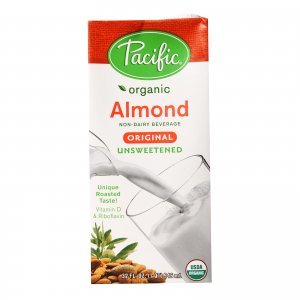 Calories: 35
Fat: 2.5 grams
Protein: 1 gram
Carbohydrates: 2 grams
Pacific Organic produces a non-refrigerated almond milk that contains roughly 7 to 10 grams of sugar and rice starch, which is not good for those on paleo or sensitive diets.
It is often very acidic ,and curdles and separates when heated (which limits its use).
Almond Breeze Almond Milk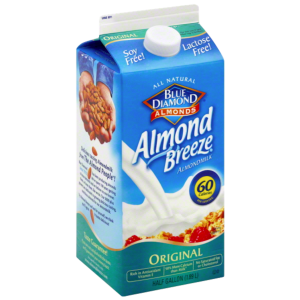 Calories: 90
Fat: 2.5 grams
Protein: 1 gram
Carbohydrates: 16 grams
This particular brand of almond milk tastes great, but only has a 2% concentration of almonds and contains gellan gum.
This ingredient is a polysaccaride that may cause a reaction in individuals with a sensitive immune system.
Natura Almond Milk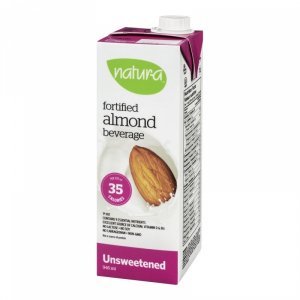 Calories: 90
Fat: 3 grams
Protein: 1 gram
Carbohydrates: 16 grams
Natura products are delicious, but are high in sugar, with their almond milk containing up to 18 grams of sugar per serving.
Their products also contain gellan gum and is mixed with canola oil, so it may not be the best decision for those who follow unique diets.
Coles Almond Milk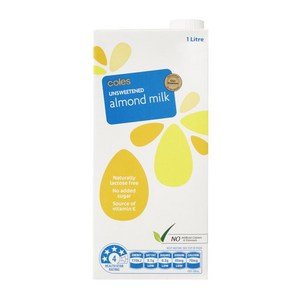 Calories: 69
Fat: 4 grams
Protein: 2 grams
Carbohydrates: 9 grams
Coles produces almond milk that has a 2.5% concentration of almonds but is high in both sugar and carbohydrates.
Their almond milk varities also contain anti-nutrients that absorb nutrients like iron, zinc and magnesium.
Sanitarium So Good Almond Milk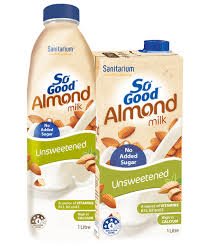 Calories: 31
Fat: 1.2 grams
Protein: 0.5 grams
Carbohydrates: 0.8 grams
This type of almond milk contains 173 kilojoules of energy, but consumers that have reviewed this product say its taste is distracting.
Additionally, this blend only contains a 2.5% concentration of almonds, so it may not be as high in nutritional ingredients found in other brands.
Now you're prepared to decipher the confusing ingredient label listed on different blends of almond milk. Y
You're now free to choose between different (healthy) brands to find what types and flavors you enjoy the most, without stressing over this and that.