Coconut Milk: The 12 Best & Worst Brands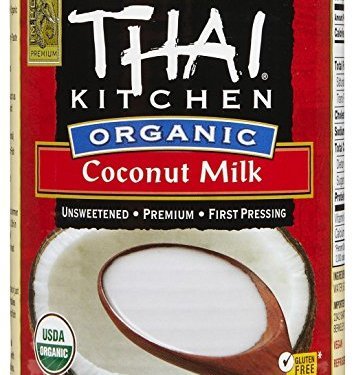 You're almost disappointed when you open the freezer after a long day at work only to find your roommates coconut milk ice cream. You forgot to replace your Ben and Jerry's Cherry Garcia ice cream after stress eating it because Denise's shrill voice was still ringing in your ear about jamming the copier.
The memory makes you shutter and you think coconut milk ice cream will have to do.
You're hesitant to take the first bite while looking at it skeptically on your spoon. Your roommate is always trying new health crazes and a healthy ice cream just seems too good to be true.
You finally muster up enough courage to take the first bite and if your mouth wasn't full, you'd gasp at how flavorful, thick, and creamy it is. Maybe your roommate isn't crazy after all.
The bite was so good, you scarf down the rest of the pint without a second thought.
Still in disbelief, you check the ingredients list to see what kind of tricks this ice cream is using to pass as healthy. You're stumped when it reads: "made with 100% coconut milk."
Can coconut milk really taste that good and still be healthy?
Why Use Coconut Milk?
Despite what their thick and creamy texture suggests, coconut milk is surprisingly a dream come true for the health conscious. Whether you watch what you eat, workout, or worry about your general well-being, coconut milk has something to offer.
Even though coconut milk might seem a like it would be fattening, it's anything but that. Coconut milk contains healthy fatty acids, called medium-chain triglycerides (MCTs), that actually help you burn fat, feel fuller longer and prevent overeating, which is one of the leading causes of obesity.
If you're a gym rat, you might also consider adding coconut milk somewhere in the mix of your workout routine because MCTs make your workout performance and use of energy more efficient.
Coconut milk also contains numerous electrolytes to help speed up your recovery when you're feeling worn down and depleted of energy after a workout. These electrolytes are also beneficial for relieving muscle aches and cramps.
As for your general wellbeing, MCTs in coconut milk are known to help prevent certain diseases, such as heart disease, by preventing the buildup of plaque in the arteries and keeping your blood pressure low.
If you have diabetes or are at risk of developing diabetes, you might consider incorporating coconut milk into your diet. The MCTs help control insulin levels from getting too high or low, thus preventing or controlling diabetes, by blocking sugar from being released into the bloodstream too quickly.
Coconut milk also contains lauric and capric acid, which protect your body against harmful bacteria and viruses. The bacteria and viruses that these elements can prevent from hurting your health range anywhere from the flu to HIV.
The Best Brands of Coconut Milk
For these reasons, it might be a good idea to start making coconut milk a regular household item. Try one of these brands for your best results:
Thai Kitchen's Organic Coconut Milk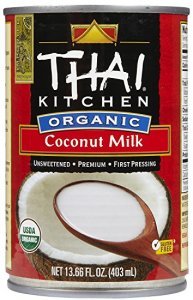 Calories: 120
Fat: 12g
Sugar: 1g
The best thing about Thai Kitchen's Organic Coconut Milk is that you know exactly what you're getting with it. The ingredients are kept simple with no special additives or preservatives; just organic coconut, guar gum, and water.
Unlike most coconut milks, this brand doesn't overdo it with the water. This means that the texture is thick and creamy, with the perfect ratio of coconut cream and milk.
It's also a USDA approved organic product with BPA-free packaging.
Natural Value Coconut Milk
Calories: 105
Fat: 10g
Sugar: 1g
Natural Value is a brand that is very open and upfront about what goes into their product and all of the processes behind them.
Their USDA-approved organic coconut milk comes in a non-BPA can. The ingredients consist of only coconut and water, with no special additives or preservatives.
It is also one of the few coconut milk brands that don't use guar gum or other gums to give their product a thick and creamy texture.
Native Forest Organic Coconut Milk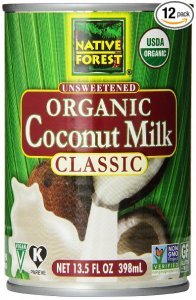 Calories: 140
Fat: 15g
Sugar: 0g
Much like Thai Kitchen's coconut milk, Native Forest also thinks simplicity is key to a great product. Their ingredients include organic coconut, guar gum, and purified water, which all contribute to the brand being named an organic product by the USDA.
Although their ingredients may seem simple, the texture is smooth and creamy when heated to the right temperature.
You can also feel safe when buying their brand because of their non-BPA packaging.
Coconut Dream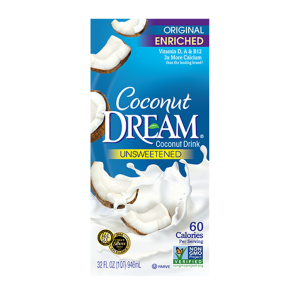 Calories: 60
Fat: 5g
Sugar: less than 1g
Coconut Dream is a good choice for those looking to use coconut milk as a replacement for dairy. This brand prides itself on providing three times the amount of calcium than the leading coconut milk brand.
Unlike previously mentioned brands, Coconut Dream is a drinkable product. This only means that it adds more water to its product to eliminate more steps for the consumer.
It also uses all natural ingredients, never uses artificial preservatives or flavors in its products, and it a verified GMO-free product.
Trader Joe's Light Coconut Milk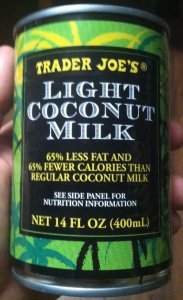 Calories: 50
Fat: 4g
Sugar: 2g
If you're looking to cut your calories without sacrificing taste, Trader Joe's Light Coconut Milk is a good item to add to your diet.
Although its ingredients list only consists of water and coconut milk, it's subtly sweet flavor and thick consistency mixes very nicely with smoothies and baked goods.
Despite it being a canned product, it is BPA free and doesn't include any artificial preservatives.
Aroy-D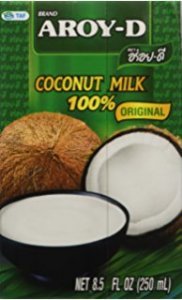 Calories: 170
Fat: 17g
Sugar: 2g
If you have your heart set on staying away from artificial additives, gums and preservatives, this brand has your name written all over it.
In order to keep its consistency thick, soft and creamy, Aroy-D doesn't add water to its coconut milk. Customers rave about the texture never solidifying due to this, which is rare for waterless coconut product.
It's also one of the better tasting brands for those who prefer a touch of sweetness.
Silk Unsweetened Coconut Milk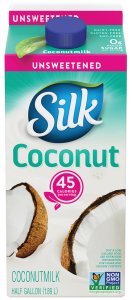 Calories: 45
Fat: 4g
Sugar: Less than one
Silk Unsweetened Coconut Milk is the product you want to get if you're looking for a quick, easy and hassle-free drink.
Unlike most of the products listed so far, this coconut milk has a high water content that makes it easier to drink.
It also contains more ingredients than usual, such as added vitamins and minerals. However, there are no artificial flavors or preservatives.
It is also verified as a non-GMO product.
So Delicious Coconut Milk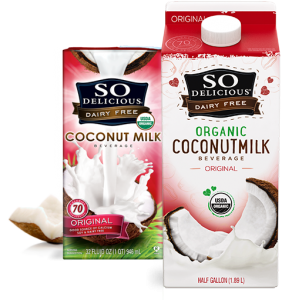 Calories: 70
Fat: 4.5g
Sugar: 7g
The name of this coconut milk couldn't be more accurate. Its creamy, yet easily drinkable consistency truly do make it so delicious.
Unlike the previously mentioned products, this coconut milk adds sugar as one of its ingredients, among various vitamins and minerals. The sugar and coconut, however, are both USDA certified as organic.
It is also recognized as being a non-GMO and kosher certified product.
Although coconut milk seems like a match made in heaven for those concerned with health, there are some brands to be weary of.
What to Look Out For:
The number one thing to be conscious of when purchasing canned coconut milk is whether or not the packaging is BPA-free.
BPA (bisphenol A) is a chemical used as a lining in cans in an effort to prevent corrosion. However, highly fatty foods, such as coconut milk, make it easier for the BPA to leach into the food.
This is worrisome because BPA has been thought to enable hormones that aid in the development of certain cancers, such as prostate and breast cancer. It also has been linked to childhood obesity and the development of diabetes.
The Worst Brands of Coconut Milk
Luckily, a lot of coconut milk brands have changed their ways and made the switch to BPA-free cans or simply changed to cartons.
Just to be safe, here are a few brands to avoid if possible:
Chaokoh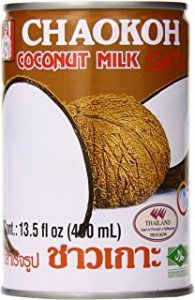 Calories: 150
Fat: 14g
Sugar: Less than 1g
Chaokoh is the least recommended brand of coconut milk for health concerns.
In contrast to previous brands, Chaokoh still uses cans that are lines with BPA to package their coconut milk. Because of the well-known risk among industry competitors, it is simply irresponsible and inconsiderate of the brand to continue the use of this chemical.
It also uses unnatural preservatives to expand the shelf life of their product.
Goya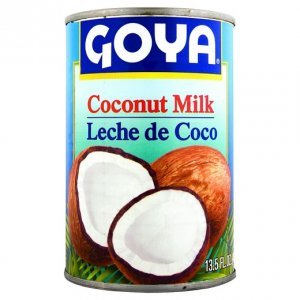 Calories: 93
Fat: 9g
Sugar: 2g
If you use coconut milk for the flavor, whether you eat it alone or cook with it, Goya is not the brand to get it from.
Although Goya doesn't use any additives or preservatives for coconut milk, there is simply no flavor and the texture is lacking in the traditionally desired thickness. The ingredients have also not been USDA approved as organic.
If you're worried about BPA, the packaging for Goya has not been officially approved as BPA-approved.
Badia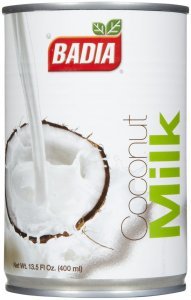 Calories: 100
Fat: 11g
Sugar: Less than 1g
Although Badia may seem like a healthy choice because of its relatively low amount of calories and sugar, there's more to it beneath the surface.
In addition to the coconut milk and water, the majority of Badia's ingredients are artificial preservatives, colors, and stabilizers. With that being said, it is not an organic product.
There have also been complaints with the coconut milk smelling and tasting off, which could be a result of artificial ingredients.
So if you want real and flavorful coconut milk, Badia might not be a good choice.
Tropical Traditions Coconut Cream Concentrate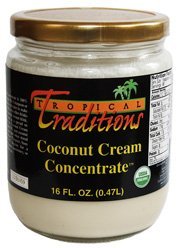 Calories: 31
Fat: 3g
Sugar: 0g
If you are wanting coconut milk quickly or easily, you're not going to find it with Tropical Traditions.
This brand has almost a butter-like consistency that requires it to be melted down and mixed with hot water before it can be consumed as coconut milk. Because it must be mixed with enough water to make it drinkable, it gets watered down and loses flavor quickly.
It does gain some point back, however, because of it's zero tolerance for artificial additives and preservatives.
What can I use coconut milk for?
Coconut is good has nearly limitless uses in the culinary world. It's an ingredient that allows you to get your creative juices flowing.
One of the more common uses of coconut milk is using it as a replacement for diary milk. Whether you use it as cream for your coffee or milk for your cereal, the subtly sweet taste and smooth, creamy texture will make you say goodbye to diary for good.
If you use a canned brand, such as Thai Kitchen's Organic Coconut Milk, its thick and creamy consistency makes for an amazing ice cream or whipped cream.
You can also use coconut milk in baking recipes, such as scones or muffins, and use it as a replacement for milk or cream.
Although you might associate a sweet flavor with coconut milk, it can also be used to enhance savory dishes. Some of the more common ways it's used for savory dishes is as a thickener for soups and curries
If you're interested in trying something sweet, this recipe for green tea coconut ice cream should satisfy your sweet tooth.
If you're craving something savory, this Thai red curry should be more than satisfactory.
No matter what your flavor preference might be, coconut milk can muster up something delicious and healthy for your personal taste. What will you use coconut milk for?